گروه علمی شرکت درین کاشت مانا تقدیم می کند
Flapless implantology The ability to protect blood vessels of the peri-implant mucosa
Several authors have reported that; when using a flap procedure, an approximately 300 – 500 micron wide zone of supracrestal connective tissue apical to the junctional epithelium surrounding the implant is almost devoid of vessels.the results of an animal study showed that there were almost twice as many vessels in the flapless implant group as in the flap implant group. This suggests that the peri-implant mucosa is more richly vascularized in a flapless implant than in a flap implant. The more richly vascularized peri-implant mucosa is directly related to an increased blood supply around the implant, which may improve the healing and defensive abilities.
The circulation of blood within the mandible is centrifugual under normal conditions; that is,the blood circulates from the inside of the bone to the outside and ends up in the vessels located in the periosteum and soft tissues associated with the bone. However, the direction of blood flow may reverse with aging and tooth extraction. The changes in the patterns of blood flow to the edentulous ridge are of particular importance in implant dentistry.
Mucoperiosteal flap reflection can easily reduce blood supply to the bone surface in situations where the blood supply to the bone is reversed so that the direction of flow is from the outside to the inside of the bone. Understanding the changes in blood flow is of great significance in implant dentistry. Therefore, we now address the changes in blood supply to the jaw with aging and tooth extraction.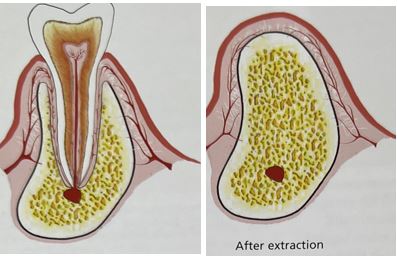 Once a tooth is removed, its periodontal plexus is lost. Tooth extraction may lead to a decrease in flow within the inferior alveolar artery.
درین کاشت مانا بزرگترین تولید کننده ایمپلنت های دندانی در ایران
جهت خرید ایمپلنت های ایرانی 3A با این شماره تماس بگیرید.
شماره تماس : 02126855680