گروه علمی شرکت درین کاشت مانا تقدیم می کند
Flapless implantology Guideline on the selection of technique for flapless implants  part two
Guideline 3 : select the mini-incision technique in the posterior maxilla
On rare occasions, an implant in the maxilla may not remain rigid after implant placement. A nonsubmerged, mobile implant may not heal predictably with a direct bone interface. Any implant that is not adequately stabilized should be submerged during healing, which reduces the risk of micromovement and early implant failure. Therefore, the mini-incision technique is selected for implants in the posterior maxilla in order to place the implant body below the soft tissue.
Guideline 4 : in the mandible, a one-stage approach offers more advantages
The most common complication of a two-stage approach in the mandible is the risk of fistulas or gumboils, which can develop in the mucosa covering the cover screws, because the mandible contains thick cortical bone, thin mucosa, and a 1-2 mm wide avascular zone in the crestal area of the edentulous alveolar ridge. Therefore, when the implant is threaded into position with 20 Ncm or more, a one stage approach is used in the mandible.
Guideline 5 : select the mini-incision submerged technique in a bone graft
When a bone graft is considered at the time of implant insertion using a subperiosteal tunneling procedure, primary closure of the soft tissue creates a more favorable environment for bone growth. Therefore, the soft tissue punch technique is less indicated under these conditions.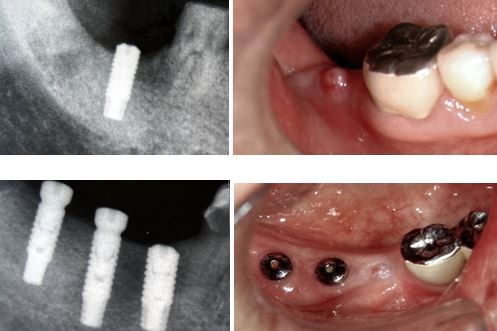 درین کاشت مانا بزرگترین تولید کننده ایمپلنت های دندانی در ایران
جهت خرید ایمپلنت های ایرانی 3A با این شماره تماس بگیرید.
شماره تماس : 02126855680